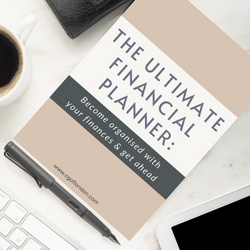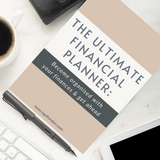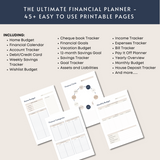 📧 Instant Download | 🖨 Undated Printable Sheets | 🛡Secure Checkout
This printable planner is a comprehensive tool for organising your finances and ensuring you are in control of your money. With 47 beautifully designed undated pages, which you can print over and over again. Place them on your fridge, vision board, or print them out into your own binder.
"This helped me finally get my money organised. I'm now on top of everything and feel much more at peace when it comes to my finances!" - Tam, Ultimate Finance Planner Customer.
Budgets:
- Monthly Budget
- Wishlist Budget
- Vacation Budget
- Home Budget
Trackers:
- Account Tracker
- Debit and Credit Card Tracker
- Chequebook Tracker
- Savings Tracker
- Weekly Savings Tracker
- Income Tracker
- Expenses Tracker
- Bill Tracker
- House Deposit Tracker
- Net-Worth Tracker
- General Tracker
- Goal Tracker
Goals:

 
- Financial Goals
- 12 months Savings Goal
Other:

 
- Income & Expense Logger
- Assets & Liabilities
- Pay It Off Planner
- 12-month Overview
- Financial Calendar
- Finance Circle
- Sinking Funds
- Finance Books
47 Pages printable planner
Undated for use every year
Can be printed as many times as you want
Clear, easy-to-use trackers and budgets
DELIVERY AND REFUND POLICY
This is an instant download product that will be delivered by email.
Please note, refunds, cancellations or returns are not accepted for instant download products.